Saca of January 2008
D.O. Jerez-Xérès-Sherry
17% alc.
Limited release: 1,500 bottles (75 cl.)
Bodega: Marqués del Real Tesoro, Jerez de la Frontera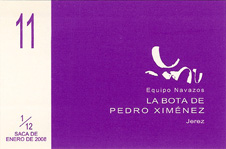 Like La Bota de Manzanilla Pasada (number 10), this old and pure Pedro Ximénez from Jerez is a radical novelty, not only within the editions of 'La Bota de' but also in the Sherry market at large, since both wines come from soleras that had never before been commercially released.
La Bota de Pedro Ximénez (nº 11) is an excellent example of a pure pedro ximénez—that is, never blended with oloroso or any other wine—produced in the Jerez style: fortified initially to 18.5% alc. and aged in butts filled only to 5/6 of their capacity, in order to enhance the complexity of oxidative notes. With time, the alcohol percentage has dropped to 16.5/17% alc.
The wine was sourced from a 12-butt solera in the Sacristía of Bodegas Real Tesoro filled in 2000 with a very old PX that had been carefully selected from the stocks of the former Bodega Manuel de Argüeso. Since then it has remained untouched, and at the time of this saca its average age must be around 18 years.
This sweet wine can be enjoyed on its own or side by side with traditional Spanish desserts (pestiños, torrijas, mantecadas, crema catalana, tocino de cielo…) or chocolate-based creations. Serve cool so that the temperature inside the glass evolves from 12º to about 16º C.
This is an almost indestructible wine that will grow with bottle age, especially once a bottle has been opened. The cork stopper must of course be carefully used for storage.