Saca of February, 2013
D.O. Manzanilla Sanlúcar de Barrameda
15% alc. – 75cl
Bodega: Miguel Sánchez Ayala
Sanlúcar de Barrameda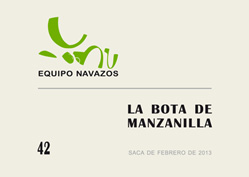 This is our sixth release from the same solera that has already produced editions number 4, 8, 16, 22 and 32 of "La Bota". Among them this new one is likely the freshest and most cheerful (we are sure that Don Manuel in his wisdom would have liked this one especially, since for him manzanilla was above all el vino de la alegría). For its selection we have returned to our favorite butts of the oldest manzanilla solera hosted at Bodegas M. Sánchez Ayala and on this occasion we have selected 19 of them. It was precisely the location of this house that inspired our choice of the name that we gave our project, as our first wine, the unforgettable La Bota de Amontillado nº 1, was sourced precisely from the cellaring facilities of this Barrio de la Balsa, between the streets called Banda Playa and Divina Pastora. This was a zone gradually stolen from the Guadalquivir estuary and traditionally surrounded by–today almost gone–navazos.
La Bota de Manzanilla 42 has an intense nose as well as a delicate, salty and cheerful palate; perhaps less powerful but fresher and more jovial. An unbeatable match on the dinner table, it excels with dishes from the Spanish seafood tradition: mackerel potatoes, tuna stew, oven preparations and boiled shellfish; international cuisine: toro sashimi, marinated herrings, mussels; and especially with the spicy dishes of the Asian southeast. It has been bottled after only the slightest filtration in order to preserve its genuine character and its deep golden color with green hues as if straight from the butt.
It is advisable to handle this manzanilla with just as much care as any other great white wine. It should be served at about 9/11ºC in fairly large stemware, never in the cliché copita..