Saca of February, 2013
DO Jerez-Xérès-Sherry
22% alc. – 375ml
Bodega: Gaspar Florido / Pedro Romero
Sanlúcar de Barrameda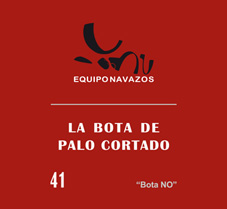 Gaspar Florido used to market two very old wines sourced from their soleras at their old cellaring facility at calle Rubiños, in the heart of the "Barrio" in Sanlúcar de Barrameda. When they decided to seize the real estate fever and sell their urban bodegas they had to move those butts to a shabby facility on the road from Sanlúcar to Trebujena. There is where I had the opportunity to sample them for the first time, on a visit with Álvaro Girón to already old Gaspar in June 2006. We were very positively impressed by their quality and consistency, especially in contrast with the lack of distinction–to put it mildly–of the context there and then. There were quite a few butts of the outstanding GF-25 and only a few of  GF-30, a very old and absolutely spectacular wine. It is precisely from the latter that this La Bota de Palo Cortado nº 41 "Bota NO" is sourced.
Only a few months later, early in 2007, Bodegas Pedro Romero purchased Gaspar Florido, and since then they have remained marketing GF-25 under the usual label "Jerez Viejísimo". In Gaspar's opinion–perhaps questionable but not lacking solid ground–such wines see how the distinctive features of amontillado, palo cortado and oloroso are blurred by their very age. That is why he used to label it simply "Jerez", which after all merely honors the sanluqueña tradition of referring to the local palo cortado as "jerez cortado". It is indeed a very old palo cortado and so we have labeled it as such.
Today these butts are stored at the Sacristía of Pedro Romero, back to the heart of the "Barrio" and actually very near their original location. There is where we had the opportunity to revisit them and sample them exhaustively and, ahem, exhaustingly, in order to select our favorites for this edition of   "La Bota": it is a truly extraordinary wine for its unlikely balance between sheer authenticity, concentration, and finesse; genuinely amazing, with so much character and personality. And of course, it belongs to the higher echelon of traditional Andalusian wines–which is as much as to say the greatest wines in the world.