Saca of August, 2012
DO Jerez-Xérès-Sherry
21% alc. – 375ml
Valdespino
Jerez de la Frontera
Production: 900 bottles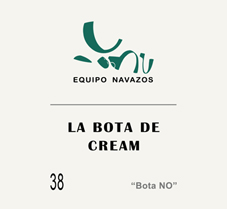 La Bota de Viejo Cream 38 "Bota NO" is a new release of edition 19 in the series: a sweet oloroso that has aged as such in a 9-butt solera under the label "Viejo Cream", never before commercially available except for a few exceptional sacas for British customers. This solera has in turn a bota NO as well as a double NO—of notably higher age and character, and which is where this wine has been sourced, again in limited volumes.
This sweet oloroso results from a blending process with top-quality pedro ximénez that was performed early on, when the solera was founded, likely over a century ago. Harmonious integration during these decades has made the wine finer and rounder, thanks to the patience of several generations of winemakers, reaching today a prodigious balance between the raciness of dry oloroso and the mellowness of sweet PX.
This "Viejo Cream" is a very old yet delicate and complex wine that seduces wine connoisseurs but also appeals to the palates of those who are not (shall we say yet) used to the livewire acidity and tremendous concentr