Saca of February, 2012
DO Jerez-Xérès-Sherry
20% alc. – 75cl
Rey Fernando de Castilla y Almacenista Juan García Jarana
Jerez de la Frontera
Production: 3,000 bottles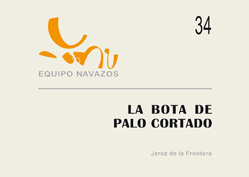 A powerful if extremely elegant Palo Cortado, cousin—so to speak—to our release number 21 but with a different character, since it is sourced from oxidative wines. That is the other way to achieve a true palo cortado: wines of remarkable finesse and expressiveness, with very complex nose blending aromas of amontillado and oloroso, plus citrus notes of orange peel.
On this occasion we tasted several hundred butts of Almacenista García Jarana, most of them untouched for at least five or six years due to the slow market. We spotted a couple of dozen great butts displaying true palo cortado character and selected six in the end. Those were further refined for a few months "a tocadedos" (filled up to within a hand's reach from the top) in extraction butts at our personal EQUIPO NAVAZOS storage altar within the cellars of Bodegas Rey Fernando de Castilla. The average age of this wine is around 25 years.