Saca of October 2011
D.O. Manzanilla Sanlúcar de Barrameda
15% alc. – 75cl
Bodega: Miguel Sánchez Ayala. Sanlúcar de Barrameda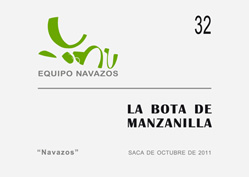 Following the procedure used for previous releases of the "La Bota de…" series, this time we selected 20 butts of the best-aged manzanilla solera at Sánchez Ayala. This Sanlúcar producer is rooted in the Barrio de la Balsa neighborhood, between the streets Banda Playa and Divina Pastora, a zone stolen from the Guadalquivir estuary after centuries, and traditionally surrounded by (now almost extinct) labor fields called navazos.
La Bota de Manzanilla is a powerful wine endowed with saline complexity, but it drinks with casual ease. Due to its personality and freshness it is unbeatable as a dinner table companion to fish and shellfish dishes (roasted bass, grilled squid) all the way up to the most elaborate cuisine, be it alongside the traditional paradigm (callos a la madrilène, arròs de muntanya) or the trendiest creations. It has been bottled after the slightest filtering in order to preserve its authenticity and its intense color, the deep yellow with greenish hues displayed when it is poured right from the butt.
It should be manipulated and stored with the same attention as any other great white wine. Serve at about 9/11ºC in generously sized stemware, never in the traditional copita or similar alternatives.
We are convinced that these wines have a great ageing potential, provided they are kept in a suitable cellar. Hence we have put apart 600 bottles of La Bota de Manzanilla 32 with the intention to put them in the market with more than three years of maturation in bottle, i.e. not before November 2014. Depending on their evolution, we might let them age for one or two more years, since our experience with bottles of releases no. 4 & 8 of La Bota de Manzanilla opened five or six years after their release is most encouraging.
In May 2013, one and a half years after bottling, we have tasted a couple units, and our impression is that the wine is still too young. We will continue to report…