Saca of September, 2010
D.O. Montilla-Moriles
15,6% alc.
Limited release: 2,600 bottles (75 cl.)
Bodega: Pérez Barquero, Montilla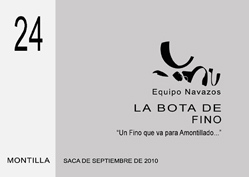 A Fino on its way toward becoming an Amontillado, a wine traditionally labeled by winemakers and connoisseurs as Fino Amontillado—no matter how unfavorable the current legislation seems to be toward this ancient category. This is an old wine that expresses like no other, through the action of time, the stunning chalky soils of the best Pedro Ximénez vineyards in the Montilla ridge.
The wine has been sourced from the oldest fino solera in Pérez Barquero's Bodega Los Amigos: a total of 63 butts arranged in threes, of which we had the privilege to choose the 13 we considered most fascinating and singular. Seeking a distinctive character we opted for those butts that most clearly showed an incipient amontillamiento while preserving the fino character—as proved by its alcoholic content only slightly above 15%. In many respects this wine offers a striking conceptual resemblance to releases number 10 and 20 of La Bota de Manzanilla Pasada, but at the same time retains a distinctive personality all its own.
Telltale notes of early stages of amontillamiento, as well as the concentration of aromas and flavors, evidence its notable age—estimated above 20 years. But there is no question this is still a fino, aged under a fragile layer of flor that time has darkened, weakened, and partly torn into patches.
La Bota de Fino (Amontillado) number 24 is a fascinating wine, deep and elegant, as well as exceptionally versatile on the dinner table. Bottled in September 2010, unfined and virtually unfiltered, its beautiful golden color is the one it exhibits straight from the butt.