Saca of September 2009
D.O. Jerez-Xérès-Sherry
21% alc.
Limited release: 600 bottles (37,5 cl)
Bodega: Valdespino, Jerez de la Frontera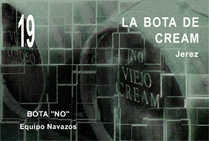 An old Andalusian winemaking tradition is to single out certain butts of superior quality with a "NO" chalk mark, and preserve those from the customary regime of extraction and refreshment. The logic consequence of this practice is that wines thus raised become increasingly old and concentrated. Sometimes, the identification of a certain butt as a "NO" butt coincides with its location at the end of a row of butts, in which case the same vessel becomes "bota NO" and "bota punta".
Such coincidence is indeed the case of Viejo Cream BOTA NO, a sweet oloroso resulting from the blend with top quality pedro ximénez occurred right from the birth of the solera, likely over a century ago. During all these decades the wine has become increasingly refined, reaching—thanks to the patience of the succeeding generations of winemakers in charge of looking after it—a prodigious balance in the ensemble between the racy old oloroso and the pleasant expressive sweetness of the pedro ximénez. In the end, the resulting wine is today extremely old and complex, a wine that will captivate the connoisseur and also appeal to more inexperienced palates not used to the untamed acidity and concentration of dry Sherries of similar age.