Saca of January 2009
D.O. Jerez-Xérès-Sherry
20% alc.
Limited release: 660 bottles (75 cl.)
Bodega: Rey Fernando de Castilla. Jerez de la Frontera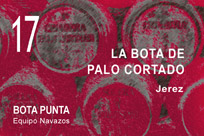 It is a common occurrence in the traditional Andalusian cellars that the butt located at the end of a row (thus called "bota punta" or "bota de punta") eventually acquires a singular character versus the rest of its mates in the same solera. Sometimes, especially in the case of finos and manzanillas, this is due to the extra action it sees: easier access to it translates into more frequent incursions of the venencia for sampling and tasting purposes.
Other times it is the result of a deliberate decision on the part of the capataz or the winemaker. Indeed, it is traditional in certain houses to refresh this butt not with wine from the first criadera but rather with wines sourced from other butts in the same solera. As a result this bota punta develops a more intense and concentrated character, some of which in turn is periodically blended back into each saca in the proportion needed to preserve the house style.
It is precisely this wine that we have bottled as La Bota de Palo Cortado number 17, "Bota Punta", sourced from a single butt at the end of the ten-butt solera of the prestigious palo cortado viejo by Bodegas Rey Fernando de Castilla. This Sherry house, powered by the enthusiasm of a Norwegian with a Southern spirit, Jan Pettersen, illustrates like few others the rebirth of traditional Andalusian wines.
La Bota de Palo Cortado 17 "BOTA PUNTA" should be served at 15ºC, in relatively large stemware (at least AFNOR in size) to help it fully express its complex aromas. We most emphatically discourage the use of picturesque copitas and tasting glasses of ridiculous sizes that would prevent the fair appreciation of this Sherry treasure in all its glorious complexity.
(PLEASE NOTE: The wine bottled in this edition—number 17—of the "La Bota de" series has a completely different origin from that of the preceding La Bota de Palo Cortado "Bota Punta"—number 6—which was bottled in 2007 and came from Bodegas M. Gil Luque. In both cases, however, it is a palo cortado, and it is certainly no coincidence that the butt of our choice has been the bota "de punta" in each solera. They equally share a certain similitude in their organoleptic profiles, especially certain notes of noble wood and peat that recall the elegance of some single malts).