Saca of June 2008
D.O. Jerez-Xérès-Sherry
22% alc.
Limited release: 600 bottles (37,5 cl.)
Bodega: Valdespino, Jerez de la Frontera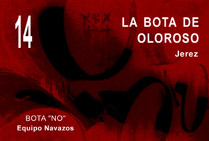 It is a winemaking tradition in Andalusia to mark with a "NO" several casks of particular quality, keeping them apart from the seasonal sacas that are at the core of the solera system. As a consequence, such wines become more and more concentrate and old. This is the case of BOTA NO, old Oloroso from a butt selected among the several marked with a clear "NO" at the House Valdespino.
The selected cask for this wine belongs to a solera of 12 butts known as Vintage 1809, which has not been in the market for many decades. Documents from the last years of the 19th century and the beginning of the 20th century mention this Oloroso as one of the oldest and best (and, therefore, expensive) wines of the House. It had a place of priviledge together with such legends as Solera de Su Majestad, Pedro Ximénez "Niños", Moscatel Toneles, and the "younger" (but now disappeared) Vintage 1820 and Vintage 1840.
La Bota de Oloroso 14 "BOTA NO" is a wonderfully aged and concentrated wine, but still fine and very dry. A true meditation draught.