Saca of January 2008
D.O. Manzanilla Sanlúcar de Barrameda
15,4% alc.
Limited release: 2,400 bottles (75 cl.)
Bodega: Hijos de Rainera Pérez Marín, Sanlúcar de Barrameda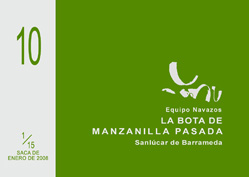 "A Chevalier-Montrachet of a wine"!!! (Jancis Robinson)
This is a wine of slightly 15% alc. selected some 22 years ago by Rafael Rivas, cellar manager of La Guita who was put in charge of the Bodegas de la Calle Misericordia when they were bought in 1986 by this old Sanlúcar house. 15 butts were destined to a star solera of well-aged manzanilla with the intention of producing an old manzanilla of exceptional quality, for the private enjoyment of the family circle or—especially, and following the local winemaking tradition—in case it became necessary to use part of it to improve the final blend of La Guita.
The growing market success of increasingly young and light versions of La Guita cornered this small 1/15 solera for quite a while, and so it has not been the object of any saca for over two decades (literally since the foundation of the solera with wines that had already spent six years under flor). In order to preserve the wine's character and avoid its becoming an amontillado, cellarmaster Rivas has only sparsely touched the 15 butts (extracting 16 liters every now and then—sometimes every two years. This volume was refreshed with wine from the best solera of La Guita. The resulting wine is a true manzanilla pasada of singular character, like they used to be.
Another aspect of this wine that contribuyes to its singularity and its inimitable biological character (intense steely acetaldehyde notes) is the fact that the butts are full to the brim, well above the 5/6 that is customary in the Sherry region. This way, the layer of yeast (which is by definition very weak in this case due to the age and lack of nutrients in the wine) need not be very large, and can keep its activity on the sole basis of the sparse refills these butts receive—managing to protect the wine from the oxidation provoked by its contact with air. On the other hand, the weakness and small surface covered by this veil of flor do not suffice to prevent elegant oxidative notes as well as a slight rise in alcohol, now close to 15.4%.
The average age of this wine must be around 12/14 years. Given its most peculiar production system, it seems safe to wait at least another two years before another saca can be made.
La Bota de Manzanilla Pasada (number 10) is a powerful and complex wine, of balanced freshness and elegant oxidation notes that impart great character (and neatly distinguish it from La Bota de Fino and La Bota de Manzanilla of editions number 2, 4, 7 and 8). It is a versatile partner to a wide variety of dishes, from the more accommodating to the most demanding. Serve around 10/12º C, never in a copita.
A solid and stable wine, it will keep perfectly in bottle for a good few years, evolving slowly like most great wines.