Saca of April 2007
D.O. Jerez-Xérès-Sherry
15% alc.
Limited release: 2,500 bottles (75 cl.)
Bodega: Valdespino, Jerez de la Frontera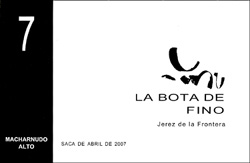 La Bota de Fino (7) MACHARNUDO ALTO is a second saca, performed in spring 2007, from the soleras that gave birth to La Bota de Fino (number two) in June 2006. In this case Equipo Navazos selected 18 butts from among the 69 that form the oldest and deepest fino solera in the legendary cellars of Valdespino.
Valdespino is one of the few Sherry houses, if not the only one, that still today lets its finos ferment following a traditional practice: in the butts where they are to remain afterwards to complete the biological ageing process under the veil of flor. La Bota de Fino "Macharnudo Alto" is also a terroir wine, since its scales are refilled exclusively with musts from the Macharnudo Alto vineyard, a truly privileged terroir to the north of Jerez, in the best area of the mythical Pago Macharnudo, that has belonged to Valdespino for centuries.
This is a wine for connoisseurs, bottled unfiltered in order to preserve its intense color and racy character. It can be enjoyed upon release, but its evolution in bottle will continue to delight consumers for quite a while, provided it is carefully stored. Some of us fondly remember bottles of this wine opened after 35 and 45 years of storage.
It performs best at temperatures ranging from 9/10º C, where it shows a lighter and fresher profile, to 14/15º C, where it fully displays its complex and rich aromatic range. On the table it is a most versatile wine: scargots a la llauna, lamb sweetbreads al ajillo, red tuna sushi, cap i pota, fried fresh bocartes, sférico olives…