Saca of January 2007
D.O.Jerez-Xérès-Sherry
22% alc.
Limited release: 200 bottles (37,5 cl.)
Bodega: Miguel Sánchez Ayala S.A. Sanlúcar de Barrameda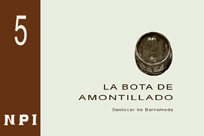 The fifth edition in the series was selected at the same time as La Bota de Manzanilla that was number four.
The oldest wine in the House of Sánchez Ayala is contained in an ancient butt with the inscription "NPI." When the second-last capataz, retired early this century, joined the house in the 1960s, it already contained a very old amontillado. Since then the wine has remained untouched save for the withdrawal of the odd bottle for private enjoyment, so the first saca worthy of the name is indeed that made for Equipo Navazos in January 2007. The average age of the wine is difficult to establish, but historical data such as the above mentioned as well as tasting impressions suggest an immensely old wine, easily reaching 70 or 80 years of age, if not closer to the century.
Often, those who see the butt in the cellar or hear about the wine's name ask about the meaning of "NPI". In this case, the most plausible explanation is more colourful than poetic, having more to do with the ignorance of one of the house owners regarding the age of the wine: "Ni P… Idea", (literally 'No F… Clue').
In any case, the result of decade after decade of ageing is a quintessential wine of extremely high saline character, immensely complex, powerful as well as gifted with crystalline structure. It should be enjoyed in silence, best without food. If at all, perhaps a bowl of assorted nuts, or chunks of aged cheese might help tame the palate a little in between sips.
This saca consisted of 200 half-bottles, which is the equivalent to a 15% of the butt's total capacity. The volume extracted was replaced with another very old amontillado, thus ensuring the continuity of this wondrous wine.