Saca of May 2013
D.O. Brandy de Jerez
40.4% alc. – 500ml
Sourced from: Rey Fernando de Castilla
Jerez de la Frontera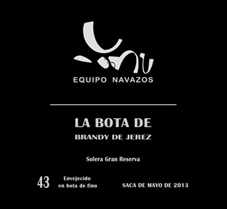 At one of the cellaring facilities of Bodegas Rey Fernando de Castilla there exists a little Equipo Navazos shrine with three choicest butts that were devoted for decades to the admirable task of aging fino in a cellar in El Puerto de Santa María. Three years ago we filled them up with the finest spirit already aged for another ten years in American oak butts. One of the three was bottled in 2011 as release number 29 of the Bota series, and now the turn has come for the second one, which shall be La Bota de Brandy number 43 "envejecido en bota de fino". The wines are bottled at the same alcoholic content as they had during the aging process (in this case at 40.4 abv.), which guarantees optimum integration and balance.
Compared to its sibling La Bota de Brandy number 29, edition number 43 is an extra two years older in terms of age and finesse, which is why a side-by-side comparison number 43 is more harmonious and less marked by fruit presence. If tasted, however, next to the best Brandies de Jerez, both 29 and 43 share a remarkable degree of finesse and sophistication as opposed to a tradition that has enhanced sweetness and intensity. Like number 29, this edition is single cask and in fact the totality of the butt volume has been bottled–so that each of the (700) 500 ml  bottles is indeed a jewel of limited production and availability, and strictly unrepeatable.
Only the finest spirit slowly aged and honed to bottling alcoholic content, in butts that had stored only the best fino, and nothing else: no additives or processes, not even the sugars from staves soaked from previous contact with pedro ximénez or even sweet olorosos. Only genuine and pure brandy, straight from the butt, as seen in its naturally pale golden color.
The goal here was to merge complexity and finesse, depth and elegance–concepts that do not always go hand in hand and that we always seek for our wines and brandies. La Bota de Brandy 43  has been a complete success. This is one of the most refined Spanish brandies ever bottled.