Saca of September, 2012
DO Manzanilla Sanlúcar de Barrameda
15.9% alc. – 50cl
Hijos de Rainera Pérez Marín
Sanlúcar de Barrameda
Production: 1,000 bottles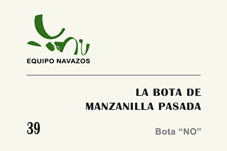 When La Bota de Manzanilla Pasada 30 "Capataz Rivas" was bottled, two of the 1/15 solera butts were showing such magnificent character that we decided to keep them apart in order to bottle them separately. Only a small part of them had been withdrawn for our release no. 30—only what was strictly necessary to refresh their contents and keep their immense complexity and concentration.
One of those two was the antepenultimate butt among the fifteen in the solera. We have labeled it "Bota NO" in order to distinguish it from our forthcoming "Bota Punta" (edition number 40) and because it truly is a bota NO, from the very moment it was marked as such and kept apart from the regular regime of the solera. La Bota de Manzanilla Pasada 39 "Bota NO" is a very special wine, maybe not as bold as 40 "Bota Punta", but with tremendous aromatic expressiveness that we find more than sufficient to justify its separate bottling in parallel to La Bota de Manzanilla Pasada 40.
What makes this wine truly unique and gifted with unmatched biological character (intense and steely salty notes on the palate) is that the butts are filled up to "a tocadedos" level—well above the 5/6 mark that is common in the Sherry district. In this fashion, the layer of yeast/flor inside these butts (much weakened by the age and lack of nutrients of the wine) is significantly smaller and thinner and can be kept alive on the sole basis of scarce periodic refreshments—acting as barely sufficient barrier between the wine and the intensely oxidizing effect of air. On the other hand, its very weakness implies that this protective effect is only a mild one, which is evidenced in the elegant oxidative notes of this manzanilla as well as the rising level of alcohol, close to 16%.