Saca of October 2011
D.O. Jerez-Xérès-Sherry
20% alc. – 50cl
Bodega: La Guita. Sanlúcar de Barrameda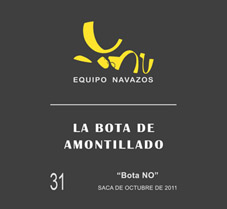 In the wine cellars owned by La Guita on the road to Jerez outside Sanlúcar de Barrameda there are several Amontillado soleras identified by the number of butts that exist of each one, and the legends "Manzanilla Pasada", "Manzanilla Pasada Vieja" or "Manzanilla Pasada Viejísima" on those butts. All those soleras have survived practically untouched since La Guita rearranged its stocks in 1980 and moved most to the cellars on the road to Jerez. Among them, the one labeled 1/10 probably holds the most balanced and elegant wine, always within its obvious age.
It is precisely from that solera that we have sourced our 31st release: La Bota de Amontillado "Bota NO". Four butts were selected for their—in our view—superior excellence, in order to withdraw a total 900 liters that fill approximately 1,700 50cl-bottles for this edition.
This is an Amontillado defined by an intense Sanlúcar character—though perhaps it does not show as acutely saline as some other Amontillados previously bottled within the "La Bota de…" series.
Due to its evident age and depth it can be sipped as a midmorning drop on quiet leisurely days, or after a meal, but it also displays a harmonious palate that makes it especially appropriate for intense dishes such as a hearty stew, arròs de muntanya, or lobster bisque. Come to think of it, at a lower than usual temperature, this amontillado can be sipped successfully side by side to a refreshing ajoblanco.
It should be served in sufficiently generous stemware at around 13-14ºC, to account for the expected temperature rise once it is in the glass.