Saca of March 2011
D.O. Jerez-Xérès-Sherry
15% alc.
Limited edition of 5,000 (75cl) bottles
Bodega: Valdespino, Jerez de la Frontera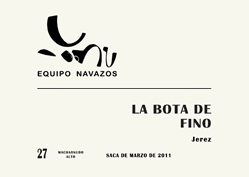 La Bota de Fino (27) "Macharnudo Alto" is a new release from the soleras that already gave us previous editions numbered 2, 7, 15, and 18. This time we were pleasantly surprised by a solera in full bloom, at a perfect maturity point in its evolution, with an engaging, even overwhelming personality. It was begging to be bottled in its pure, raw state, after just completing the selection from the 69 butts of the solera. The average age of this wine—marked by the extra complexity given by a hint of oxidation and the fat resulting from the autolysis of "flor" yeasts—is slightly above 11 years.
This is a wine for connoisseurs, bottled unfiltered in order to preserve its intense color and racy character. It can be decidedly enjoyed upon release, and its evolution in bottle will continue to delight consumers for quite a while, provided it is carefully stored. To the surprise of many, some of us fondly remember bottles of this wine opened after 35 and 45 years of storage.
It performs best at temperatures ranging from 10º C, where it shows a lighter and fresher profile, to 13º C, where it fully displays its complex and rich aromatic range. On the table it is a most versatile wine, successfully matching a wide array of diverse foods: salmorejo soup, caña de lomo and other Iberico charcuterie, lacón con grelos, shepherd's pie, roasted sardines en espeto…