Saca of December 2010
D.O. Montilla-Moriles
22% alc.
Very limited release: 200 units (50 cl.) bottled, of which less than 100 have been distributed
Bodega: Pérez Barquero, Montilla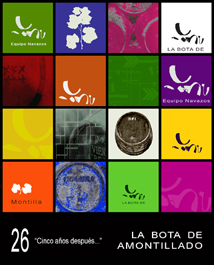 It is now the fifth birthday of our adventure at Equipo Navazos. It all started one fine late autumn morning in 2005 in Sanlúcar, triggered by our astonishment at a powerful and elegant wine that would later become La Bota de Amontillado nº 1 "Navazos".
Five years later ("Cinco años después…") we propose a celebration for this anniversary with another racy Amontillado, but now of course from Montilla. An extremely old "NO" wine of exceptional intensity and concentration, and spectacular complexity, sourced from one of the row-end butts that rest in Pérez Barquero's Los Amigos cellar for decades now.
With this private edition Equipo Navazos wants to thank the support and acknowledge the contribution of the friends who walk with us on this fascinating trip. We are talking about very few bottles, none of which will be for sale.