Saca of May 2010
D.O. Jerez-Xérès-Sherry
21% alc.
Limited release: 1,400 bottles (50 cl.)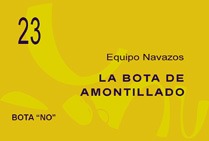 This is a very old wine, from the same bodega in the ancient "de la Balsa" quarter in Sanlúcar de Barrameda in which La Bota de Amontillado no. 1 and no. 9 "Navazos", and La Bota de Amontillado no. 5 "NPI" were selected before. All these wines belong in fact to the same lineage. This edition no. 23 comes from only two boots whose age is midway between the previous ones, probably closer to the first two than to "NPI". As all the amontillados of this house, it shows marked manzanilla character, sharp freshness in the palate, as well as the depth of a exceptionally well conducted maturity.
La Bota de Amontillado no. 23 "Bota NO" is closer to a wine for reflection than to a festive consumption with food. However, it provides some memorable harmonies. Try it, for example, with a good ox or lamb curry, or simply with the freshest raw oysters you can find.