Saca of February 2010
D.O. Jerez-Xérès-Sherry
20,5% alc.
Limited release: 1700 bottles (75 cl.)
Bodega: Valdespino. Jerez de la Frontera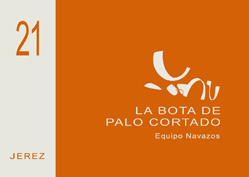 The rich diversity of soleras of exceptional quality hosted in the different cellar facilities owned by Grupo Estévez on the outskirts of Jerez is truly impressive. This is largely due to the superlative quality of the wine stocks acquired with the incorporation of the House of Valdespino at the turn of the twenty-first century. Though the wines were of incredible quality, the management was hectic and the reorganization of those stocks required a massive investment in terms of both material and human resources—thankfully founder José Estévez did not skimp there.
Thanks to this happy marriage of tradition and innovation we can now enjoy sherries with the purity of this La Bota de Palo Cortado Nº 21, a veritable old wine whose freshness and elegance turn it into a most pleasant drink.
On the dinner table this splendid Palo Cortado will reach its zenith in a series of heavenly food matches: hard cheeses, cod vizcaína style, octopus a feira with only top-quality paprika, spinach-and-chickpea stew, etc. Serve in liberally sized stemware, anywhere between 13º C (so it shows itself lighter and better suited to dish pairings) and 17º C—where it reveals itself in all its glorious complexity.