Saca of January 2010
D.O. Manzanilla Sanlúcar de Barrameda
16% alc.
Limited release: 750 bottles (50 cl)
Bodega: Hijos de Rainera Pérez Marín, Sanlúcar de Barrameda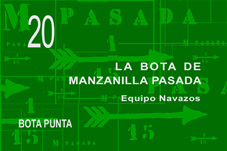 Edition number 10 of the "La Bota de…" series was made from a 1/15 "one in fifteen" solera (a solera made of only fifteen butts) of manzanilla pasada: a simply magnificent old manzanilla, of rarely seen finesse and complexity. Two years later, for this edition number 20 we have selected exclusively the best and oldest of those fifteen butts: the BOTA PUNTA. This vessel has always followed a different extractions-and-refreshing regime under the alert eye of its true creator: Rafael Rivas, capataz of La Guita, who has been in charge of the Bodega Misericordia in Sanlúcar de Barrameda since the owners of the company Hijos de Rainera Pérez Marín bought the facilities in 1986.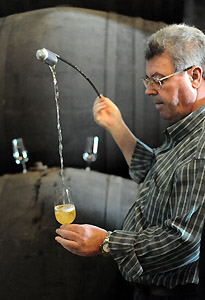 Rafael Rivas (Photo by Óscar Matellanes)
After the saca corresponding to the edition La Bota de Manzanilla Pasada nº 10 "1/15", the bota punta was not refreshed with wine from the first criadera, but with more manzanilla pasada from other butts in the solera, which in turn were refreshed with criadera wine. The overwhelming combination of power and finesse that this butt already exhibited in January 2008 has become two years later a real verbal challenge for even the most skilled poet-taster, all the happier for being defeated at the describing game by this rarest of manzanillas. The present saca is extremely limited and bottled in transparent glass so that its beautiful golden color will be appreciated by all, as homage to the discrete winemaking wisdom of its maker, capataz Rivas, on the occasion of his retirement in January 2010.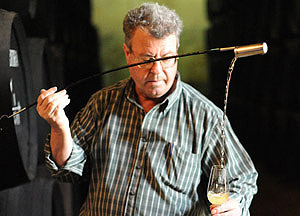 Capataz Rafael Rivas (Photo by Óscar Matellanes)
This edition shares the essential characteristics of La Bota de Manzanilla Pasada 10, only with greater intensity and purity, no matter how impossible the thought may appear to lovers of number 10. This is truly a wine to dream of, understandably unbelievable unless one has the opportunity to enjoy it in person.