Saca of January 2009
D.O. Manzanilla Sanlúcar de Barrameda
15% alc.
Limited release: 4,000 bottles (75 cl.)
Bodega: Miguel Sánchez Ayala S.A. Sanlúcar de Barrameda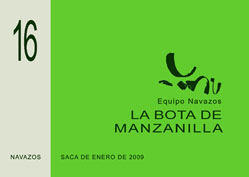 Following the same procedure as for releases number 4 and 8 in the series "La Bota de…", this time we selected fifteen butts from the solera of the best-aged manzanilla in the house of Sánchez Ayala. The cellars of this bodega stand in Sanlúcar in the Barrio de la Balsa, between the streets called Banda Playa and Divina Pastora, in a neighborhood that's been gradually stolen from the estuary of the River Guadalquivir and which used to be surrounded by the now almost disappeared Navazos (wetlands used for farming).
This solera is currently fed with musts sourced from two vineyards owned by Sánchez Ayala in the Pago Balbaína: Las Cañas and Viña Soledad. The finesse of these musts, together with the warm and moist climate resulting from the proximity of the sea and the freatic layer, produce delicate wines of great freshness derived from the uninterrupted ageing process under the veil of flor. In tune with the most demanding winemaking traditions of Sanlúcar, this manzanilla ages following a particularly dynamic regime of sacas ('extractions'): a whopping twelve scales are monthly refreshed with small volumes. The average age of this wine is estimated around six years. All these factors explain the purity and typicity of its profile, its unequivocally biological character. La Bota de Manzanilla is a wine of saline complexity and power, which drinks nonetheless with incredible ease. Its personality and freshness make it the perfect partner on the dinner table, matching a wide range of foods, from the appetizers to the richest dishes (where it helps refresh the palate). The wine has been bottled after only a very light filtration in order to preserve its authenticity and its beautiful golden color, the same that shines as it emerges from the butt.
Even though there is a certain consensus about the desirability of an early consumption of manzanillas and finos, our experience with biologically-aged wines bottled by the Navazos Team indicates that proper cellaring allows them to mature elegantly after a few years of bottle age. In any case the exceptional quality of this manzanilla deserves careful treatment; we believe it to belong among the greatest white wines in the world. Equally, we suggest a service temperature around 8/10ºC and proper white wine stemware, at least, never a 'copita' or a tasting glass.