Saca of February 2008
D.O. Montilla-Moriles
40,7% alc.
Limited release: 400 bottles (50 cl.)
Bodega: Pérez Barquero, Montilla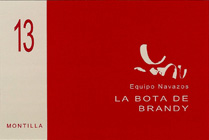 For the first time since the first release in December 2005, Equipo Navazos has selected a brandy instead of one in the many different categories of traditional Andalusian wines.
La Bota de Brandy (13) is a real jewel. When the managers of Bodegas Pérez Barquero grouped all the brandy butts they had scattered in different bodegas in Montilla and Aguilar, the result of many different acquisitions from different bodegas, they blended them all in order to feed the soleras and criaderas of their oldest brandy. All but nine which proudly displayed the characteristic style of their bodegas of origin. Of these nine, all extremely old and untouched save for the refills demanded by evaporation, one has been selected (number three in a six-butt solera) that boasts a gorgeous profile, in a style that is both aromatic and dry, infrequent in Andalusia, and which seems to be the choice of world connoisseurs in matters of spirits.
This brandy has aged for decades at bottling ABV (40.7% alc. in this case), never manipulated in any way other than filtered through a piece of cloth.
It should be enjoyed in small sips in a calm atmosphere, and in moderation, at a maximum of 18º C, as an after dinner drink, with nuts or black chocolate, or even a fine cigar. Its very nature makes it an indestructible substance as long as the bottle is properly closed.