Saca of February 2008
D.O. Montilla-Moriles
10,5% alc.
Limited release: 1,400 bottles (75 cl.)
Bodega: Pérez Barquero, Montilla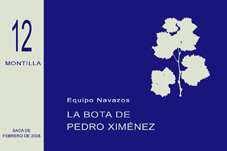 Bottled virtually at the same time as the 11th edition (La Bota de Pedro Ximénez de Jerez), the rationale behind this parallel release is the possibility to compare two very different styles of pure PX (never touched with oloroso, only fortified with alcohol): on the one hand the Jerez style—represented by La Bota de Pedro Ximénez 11—and on the other the Montilla style—represented by La Bota de Pedro Ximénez 12.
This saca of February 2008 is in a way a development of La Bota de Pedro Ximénez 3 "De Rojas"—released in October 2006—only this wine is a little older and more concentrated, partly due to the extra eighteen months elapsed since the first release, partly because in this case the blend benefited from the addition of the odd butt of older average age.
In La Bota de PX de Jerez (11) we find a wine at 16.7% alc. where oxidation notes abound next to raisiny fruit, in a nose that is both expressive and complex. In contrast, La Bota de PX de Montilla (12) is a wine of 25/27 years of age, at about 10.2% alc.—having started somewhere in between 12 and 15% alc.—resulting from a process of crianza in vessels that were always full, almost reaching the cork closure. This wine is denser and higher in sugar content, and raisiny fruit notes lead the nose in spite of its old age. At any rate it is a very different style from that of Jerez (11).
La Bota de Pedro Ximénez 12 is an extraordinarily sweet and complex dessert in itself. Successful matches are ice cream and sorbets, as well as black chocolate. It will reveal fully its aromas toward 16/18º C, but the palate will find it more appealing at a slightly cooler temperature, around 12/14º C. This too is an almost indestructible wine that will grow with bottle age.