Saca of October 2007
D.O. Manzanilla Sanlúcar de Barrameda
15% alc.
Limited release: 2,500 bottles (75 cl.)
Bodega: Miguel Sánchez Ayala S.A. Sanlúcar de Barrameda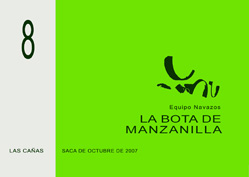 The fourth edition—now sold out—of "La Bota de…" was selected from the oldest manzanilla in the house of M. Sánchez Ayala, located in the Barrio de la Balsa in Sanlúcar de Barrameda, between the streets Banda Playa and Divina Pastora. It consisted of 1,500 bottles which literally evaporated upon opening: the wine's saline complexity and powerful palate dictated its fate. Nobody has ever heard of a second-day impression or of leftovers.
The wine remains intact and splendid several days after opening, but due to this "evaporative" quality few have had the opportunity to verify this in person. The eighth release of "La Bota de…" is a reedition of number four that provides a new opportunity to do so for those who can wait. In this case 2,500 bottles were sourced from 12 butts of the total of forty that constitute the solera. These twelve are—according to the demanding standards of Equipo Navazos—those that present the most genuine profile.
This is a terroir manzanilla, a status derived from both the single-vineyard origin of the grapes and the ageing process of the wine. The grapes are sourced from the vineyard 'Las Cañas,' located in the Pago Balbaína, from which the wine takes its name. The finesse of these Palomino-based musts, together with the moist and mild atmosphere of the bodega as a consequence of the proximity of the sea and the freatic layer, result in this delicate wine of upfront acetaldehyde derived from its consistent ageing under flor. Following the tradition of Sanlúcar, this manzanilla is aged along a dozen scales that are frequently run (refreshed) with small sacas.
La Bota de Manzanilla, due to its personality and freshness, is a dreamed table partner for hors d'oeuvre as well as—more surprisingly, perhaps—hearty dishes, cleansing the palate beautifully. It has been bottled unfiltered to preserve its authenticity, which is why it should be carefully stored according to its exceptional quality, that of one of the great white wines of the world.