Saca of January 2007
D.O. Manzanilla Sanlúcar de Barrameda
15% alc.
Limited release: 1,500 bottles (75 cl.)
Bodega: Miguel Sánchez Ayala S.A. Sanlúcar de Barrameda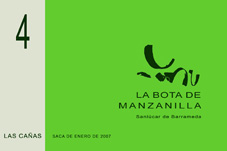 The fourth release in the "La Bota de…" series was La Bota de Manzanilla "Las Cañas", a wine produced under the control of EQUIPO NAVAZOS at the House of Sánchez Ayala. This saca, of January 2007, comes from the selection of the best eight casks of 750 lit. among the forty that constitute the oldest manzanilla solera in this small and traditional bodega.
It is a terroir manzanilla, a status derived from both the single-vineyard origin of the grapes and the ageing process of the wine. The grapes are sourced from the vineyard 'Las Cañas,' located in the Pago Balbaína, from which the wine takes its name. For the ageing process, the hundreds of manzanilla butts in the House of Sánchez Ayala are stored in their cellars in the old barrio de la Balsa, an area of Sanlúcar stolen from the sea along the centuries. One of this cellars, the Bodega San Pedro, dates back to at least the second half of the eighteenth century, as recorded in the documents whereby the Marqués de Casa Arizón, after the crisis provoked by the loss of his fleet in a sea storm, severed the building from the rest of his Palace in order to sell it to a priest from Cádiz.
The finesse of these Palomino-based musts, together with the moist and mild atmosphere of the bodega as a consequence of the proximity of the sea and the freatic layer, result in this delicate wine of upfront acetaldehyde derived from its consistent ageing under flor. Following the tradition of Sanlúcar, this manzanilla is aged along a dozen scales that are frequently run (refreshed) with small sacas.
La Bota de Manzanilla, due to its personality and freshness, is a dreamed table partner. It offers magic combinations ranking from jamón de bellota and other Iberico charcuterie, fresh iodine-laden shellfish and equally delicate fish frituras, to hearty dishes where it cleanses the palate superbly: a thick and unctuous fabada, the sequential helpings of a traditional cocido, etc.
The wine was bottled unfiltered to preserve its authenticity; that is why it retains its intense yellow color with greenish hues typical of these wines in their raw state, away from the artificial paleness that dominates the market of overfiltered finos and manzanillas. Due to an initial concern about its evolution in bottle, it was originally recommended to drink upon release, but nowadays, almost 18 months after bottling, it still performs admirably, becoming an increasingly complex wine.