Saca of December 2005
D.O. Jerez-Xérès-Sherry
20% alc.
Limited release: 600 bottles (75 cl.)
Bodega: Miguel Sánchez Ayala S.A. Sanlúcar de Barrameda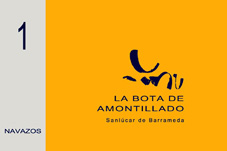 The ageing cellars of Sánchez Ayala can be found in the Barrio Bajo of Sanlúcar de Barrameda, an area stolen from the River Guadalquivir Estuary along the centuries. Not so long ago they were surrounded by navazos, farmlands excavated by the growers in order to benefit from the moisture of the freatic layer. Hence the name of our first release for "La Bota de Amontillado," and the namesake of our team: Navazos.
The House of Sánchez Ayala, reputed for its fine manzanillas, also stores, in its 18th-Century bodega between the streets of Banda Playa and Divina Pastora, butts of old amontillado that ceased to be refreshed decades ago. In December 2005 a group of wineloving friends decided to buy the contents of one of these butts from Sánchez Ayala. Our selection was really tough, after an exhaustive tasting of 65 butts of consistently high quality.
This is a wine that sceptics enjoy and connoisseurs rave about—a truly singular experience given the difficulties usually suffered by many aficionados upon their first approach to amontillados. It is also a dangerous wine in the sense that once a bottle is opened its aromas invade the room and the aromatic intensity will make one's guests feel they are trapped inside a cask of great amontillado.
The ideal serving temperature is cool (12/14ºC) so that time in the glass will raise it, in any case never above 18ºC. Chunks or flakes of aged Reggiano or Manchego will complement it beautifully, as would a bowl of fried almonds sprinkled with coarse salt. For a heavenly match, pair it with a dish of risotto with wild duck shot in the nearby Guadalquivir estuary… This first edition was bottled in origin for private use, and therefore was not commercially released. However, the odd bottle may have reached the shelves of a shop or restaurant.